Christmas is around the corner, no really it IS! Now is the perfect time to start buying a few things for your kids… To avoid last minute shopping and impulse buying. We have picked 4 of our favourite Prima Toys toys to share with you.
Prima Toys Glimmies
These little collectibles are beyond cute. There are 6 Glimmies to collect, each one with their own little house! But, best of all, they have a little light in each that makes them shine.
"The Glimmies glow in the dark and turn off the light. This effect is assured by a photometric sensor placed on their little head that reacts to the degree of brightness of the surrounding environment."
Sasha from Prima Toys shares more about these little toys in this video
This is such a great toy for those little people who love making up magical worlds. The wall sticker that comes with this Fairy Door is gorgeous. It is quite big, creating a magical space for your fairy. The pieces that come with it are small, so I would stick with the recommend age limit of 4 years old and up.
"Discover the magical world of fairies with My Fairy Garden – The Secret Fairy Door! There's an adventure behind this door. Using the key bracelet, unlock the secrets of nature and begin a fun and fascinating journey, where you can uncover the life of a tree and its life throughout the changing seasons."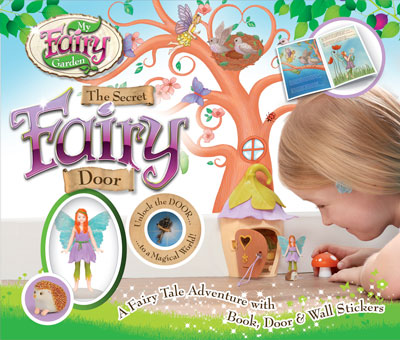 This is my absolute favourite toy. Miraculous is stunning and my daughter has decided she wants to be a lady bug when she is older.  Miraculous is a super hero who protects Paris from the villian, Hawk Moth.
"With Miraculous Ladybug Light Wheel, girls can play with Ladybug in her rolling ring or by herself, there's also lights and sounds Features both Ladybug and her Light Wheel. Her rolling wheel will automatically light up as it rolls and plays 3 different songs (including the theme song) Ladybug has 4 points of articulation so girls will be able to move her easily when they take her out of the wheel."
The Teenage Mutant Ninja Turtles are one of those action heroes that many of us also grew up with. These figurines are perfect for little people, as they are quite chunky and easy for them to play with.
"These oversized 28cm Turtles have evil beat in its tracks, pull back on the arms for extra Power Punching! as the arms spring forward ready to defeat evil. Try-Me Package – pull arms back and let them go for Power Spring action!"
Prima Toys have given us a stunning hamper valued at over R1,400 to giveaway to one lucky reader.
The hamper includes all of the toys we have mentioned above!
A 3 pack mini light up Glimmies collectible dolls
A Miraculous Light Wheel
A My Fairy Garden – Fairy Door
A TMNT Half Shell Heroes figurine
COMPETITION CLOSED
1. SHARE this article to your social media with the easy share buttons
2. Answer below or on Facebook: Which is your favourite of the above toys?
3. Comment #PRIMATOYS on the Facebook post.
CLICK HERE TO ENTER OUR OTHER ACTIVE COMPETITIONS!
DON'T FORGET TO LEAVE YOUR NAME AND EMAIL ADDRESS IN THE FORM BELOW! WE NEED TO BE ABLE TO CONTACT YOU TO SEND YOU YOUR PRIZE!!
Please be sure to read our competition terms and conditions.
Good luck everybody!!
Make sure you are following us on Facebook so you don't miss the winner's announcement!
We will choose a new winner if we are unable to reach you within 7 days.
Save
Save